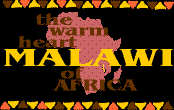 There are only few travelers in Malawi although Malawi has lots to offer for travelers, and has a very friendely people. Nevertheless, Malawi is one of the world's poorest countries. On my way through the southern part of the country I passed hundreds of small villages, many of which have a fruit, vegetable and fishmarket for the local people. Sometimes I bought some tomatoes or fish, but I always had small conversation with the salesmen.

Via Blantyre, the country's largest city, I arrived in Zomba, the old capital, and with it's lifely and colourful market an interesting place. Zomba sits at the bottom of the Zomba Plateau, a rough and heavily forested mountain with small waterfalls and marvellous views over the country.

My next stop was the Shire River, the country's largest river and an important source for fish. Lots of fishermen fish in the traditional way throwing small nets while balancing in their narrow wooden canoes. The river flows through Liwonde National Park where there are many, many hippos to be seen, as well as crocodiles, elephants and waterbucks. Nearby is the southern end of Lake Malawi. With white beaches and tropical fish this third largest of Africa's lakes is the touristic hot spot of Malawi.

you can view some of the photos I made in Malawi by navigating through the places on the left. A travelstory in words, that I wrote for a dutch magazine, is available in english and dutch.