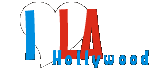 Last time I visited Hollywood was in the early nineteennineties. It was a sad area. No fun except maybe the footprints and hands of the former Hollywood stars. My new 2006 visit changed that image a lot. It may still not be the Hollywood from the mid-20th Century, but it looks like the way up has been started.

The photo's I made are from Hollywood Boulevard, the actual center of Hollywood, from Melrose Avenue, although that's only one building, and from the part of Sunset Boulevard that's been called Sunset Strip. Famous for its billboards and roadside cafes.

You can navigate by clicking about any object in the site. Just clicking any photo will get you to the next one in line. I hope you enjoy.