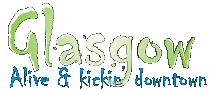 Glasgow is Scotland's largest city. It's a lively city although the bricks and the streets do not always show Glasgow's new 21st century spirit. Buchanan and Sauchiehall streets are Glasgows central streets, with many people enjoying the atmosphere and - sometimes - the sun.

The small Old Town has some picturesque alleys and facades, and the old town has a beautifully laid out cemetery, the Necropolis. Here you can feel a sense of the Highlands right in the middle of the city.

The new ambitions of the city are to be found in places like the Pacific Quay and the Science Center - that show modern techniques - and in the reconstruction of older neighbourhoods like Gorbals.

You can navigate by clicking about any object in the site. Just clicking any photo will get you to the next one in line. I hope you enjoy.