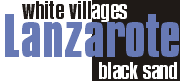 Lanzarote is the most northeast one of the Canary Isles. Like the other islands, Lanzarote is volcanic. Lava is to be found accross the entire island. On the most of the times black lavafields white villages have been built, villages and houses that contrast heavily with the natural surroundings. In the creations of local artist CÚsar Manrique the contrast is well visible, and stunning at the same time. In my opinion the combination of the Fundacion CÚsar Manrique or Los Jameos de Agua with the volcano are among the highlights on the island.

But despite the small size there is much more to enjoy on Lanzarote like the beach and village of El Golfo, Timanfaya National Park, Gesamtkunstwerk La Geria or the former capital Teguise, especially when there is no market in town.

I hope you enjoy my photos, you van navigate by using the name buttons or simply click on each photo, which will take you to the next one in line.